Ingredients List:
Chopped frozen spinach (10-ounce package)

Sour cream (16-ounce container)

Water chestnuts ( 8ounce can chopped)

Ranch dip mix (1-ounce packet)

Round loaf of bread and other dippers like crackers, baguette slices, and sliced veggies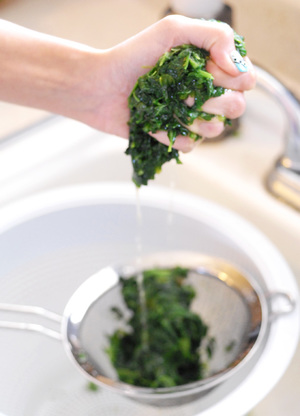 Step 1:
Defrost the spinach.
Let the frozen spinach soak in hot water and set aside until fully thawed. After fully thawed taking small handfuls drain out all of the water.
Easy 5 Ingredient Spinach Dip Recipe
Food by LT
Step 2: Combine the sour cream and Ranch dip mix. Stir together until well combined and set aside. The longer the dip sits, the better the flavors will mingle. That's what makes this recipe so great—you can make it up to a night ahead of time or right before the party starts and it's always good.
Step 3: Make the bread bowl. At an angle, cut into the top of the bread round, moving in a complete circle. Be careful not to cut too deep into the bowl. Remove the top and use the kitchen's best tools—your hands—to pull out the rest of the bread and create a hollowed-out bowl shape. If you'd like, you can toast the bowl in the oven at 300 degrees before filling it. This helps keep the bread from getting too soggy.
Step 4: Assemble the dip. Drain the spinach through a fine-mesh strainer and squeeze out excess water; using your hands works the best. Do this by taking a handful at a time and simply squeezing it until it yields no more liquid. Add the thawed spinach and water chestnuts to the sour cream mixture. (If I have any green onions laying around, I'll also chop them up and add them to the dip.) Stir together until well combined.
Step 5: Serve the dip. Spoon the spinach dip into the bread bowl and serve with your choice of dippers.
Please tell us about how you enjoyed my Mom's 5 ingredient spinach dip!